Lashes Tailored to You
Lashes are individual so we specialise in natural Gold Coast lash extensions designed in a unique style to perfectly match your eye and face shape – with precise lash isolation (one extension per natural lash).
Our gentle, safe application method keeps your natural lashes in perfect condition so you can wear eyelash extensions for as long as you like – without any damage or discomfort.
Our lash artists have thousands of hours experience so you're guaranteed to get extensions you'll love, every time.
Thousands of Clients with Beautiful Results
With over 425+ verified eyelash extensions Gold Coast reviews on Google and another 55+ on Facebook, we're confident you'll love your new glam….
Best Lashes Guaranteed
People ask us how we can guarantee our lashes will be the best you've ever had. We've put a lot of effort into ensuring your entire experience at The Lash Spa Eyelash Extensions Gold Coast is outstanding, and here are a few reasons we can confidently stand behind our unbeatable guarantee…
Master Lash Stylists
With thousands of hours experience so lashes are always applied perfectly.
Highest Quality
Our lashes, glue and tools available all
triple sterilised for every client.
Perfect Environment
Advanced automatic temperature and humidity controls mean your lashes last longer.
Private Treatment Suite
Your own private space to relax and unwind while your lashes and brows are being perfected.
Comfy Lash Tables
Super luxurious high-quality lash tables (not
portable massage beds) – So you can really relax!
Aftercare Gift Bag
You leave with a goodie bag including our own lash cleanser to keep your lashes clean
Make Your Inner Beauty Pop
We are a professional Gold Coast lash extensions salon created to serve your lash extension needs with a relaxing experience in a spa-like environment.
Kick back with a glass of lychee iced tea, soft lighting, gentle spa music and aromatherapy. Every appointment begins with an essential-oil infused hot towel welcome. Lavender or Lemongrass – the choice is yours.
Our Master Lash Artists will create your custom lash look – tailored to suit your eye shape. From babydoll to cat-eye – our expert team will guide you.
Lashes Aren't One Size Fits All
"You were born to stand out – and your lashes should too! We partner with you to tailor your set of eyelash extensions to complement your face and enhance your eyes for a Seemingly Small Change that makes a Dramatic Difference."
Lash Specialists
We are purists so we specialise in Gold Coast eyelash extensions (plus brows). We spend all day, every day doing lashes which means we're really, really good at them. Perfect lash isolation every single time so your extensions look more natural, last longer, and don't do any damage to your natural eyelashes.
Total Relaxation
We designed The Lash Spa as a merging of a Lash Salon and a Day Spa to try and make your lash application a peaceful escape from the stresses of day to day life. We believe getting your lashes done should be a treat and not a chore. You're greeted with an iced welcome drink and Ferrero Rocher along with delightful smells in the salon. Calming music and lash beds that are incredibly comfy complete the package to leave you feeling pampered and ready to take on the world!
Aftercare Gift-Bag
What we do in the salon is only half the job! How you take care of your extensions is the other half and that's up to you, so we provide you with all the essentials like a foaming lash wash, aftercare instructions, lash wand and a discount for your first infill.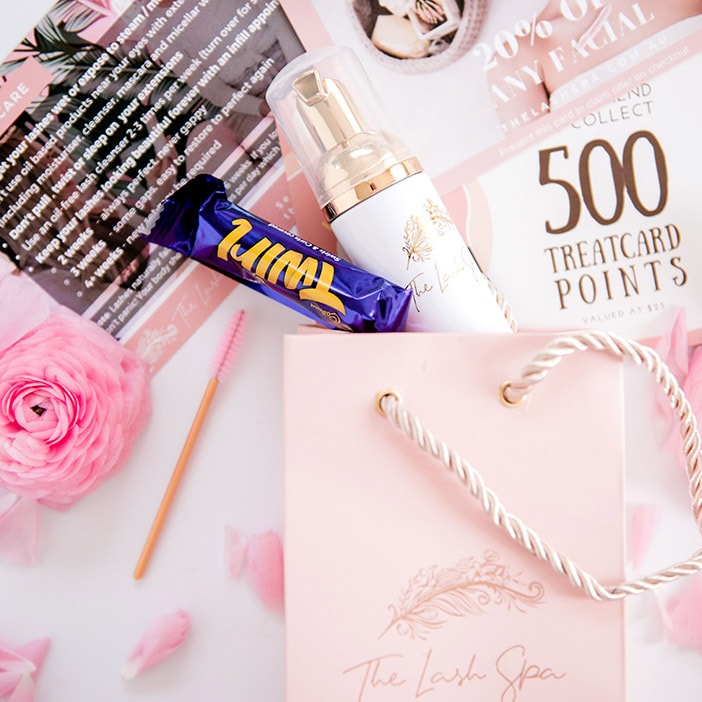 Our Lash Packages
Which Lash Style Are You?
Lash Spa Light
A light, pretty set of eyelash extensions that looks completely of natural and enhances your eyes.
These lashes are loved by our more mature clientele or those with short, fine natural lashes. To achieve this look, we use a combination of individual lashes and light 3D volume lashes.
Dreamy Volume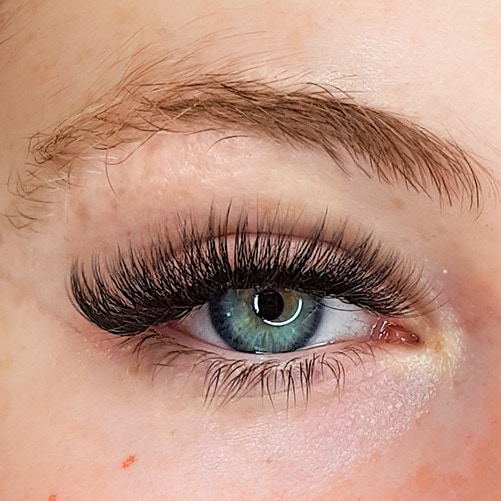 As our most popular set of lashes, the Dreamy Volume creates the darker 'eyeliner' look with a fuller volume and length of lash extension.
The look is customised to suit your natural lashes, so could be a full set of 6D lashes mixed with some 3D volume or even classic lashes – we get as long and full as we can without causing any damage.
Max Volume
The Max Volume is for you if you want your lashes to be on another level of fullness to create extreme drama and get maximum attention.
We'll use a combination of volume fans from 3D right through to 10D in a style that suits your eye shape, to make sure your Max Volume creates an incredible effect!
The Lash Spa Eyelash Extensions Gold Coast
Did you know there's actually no prior training requirements for eyelash technicians?
I started out with formal training, but many don't – and the results are obvious.
Hi, I'm Melissa, owner of The Lash Spa and I'm responsible for ensuring our lashes are the best on the Gold Coast with ongoing training and the highest standards possible for every team member. We only work with master lash artists (who have thousands of hours of lash experience) which is why our results are so consistently amazing.
With over 5,000 hours of experience in the lash extension industry since 2011, I've seen so many clients coming to us to escape extensions betrayal from other salons.
Sometimes the extensions are clumped together,
Sometimes the actual lashes are poor quality…
And sometimes whatever the other salon did has totally stripped the client's lashes leaving gappy, weak natural lashes that need time to recover.
Unlike these salons, we care about the health of your lashes and we're dedicated to how each set turns out. Because great business isn't about more volume, it's about Better Lashes.
The perfect full set of lashes look like you – beautiful, alluring, and absolutely natural…
Sounds Like We're The Lash Salon For You?
Book an appointment to unleash your lashes today